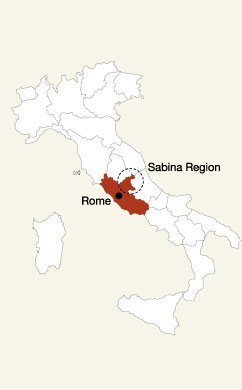 Sabina, cooler than Tuscany
Sabina is an enchanted, unspoiled region northeast of Rome. It is a land of hills dotted with olive trees and oak woods, embraced by the Apennine mountains and scattered with small medieval towns, castles and monasteries.
When people think of the beautiful Italian countryside, they generally think of Tuscany. Most of the world has still to learn about this lovely region just a few miles from Rome. Because of its amazing natural landscape, its proximity to the Eternal City, and its uniqueness, we like to say, "Sabina, cooler than Tuscany".
In Sabina, you can find the oldest olive tree in Italy, a magnificent 2700-year old tree nicknamed Ulivone (The Big Olive Tree).
You're welcome to visit the region, stay at our family's villa and take a walk in our olive grove.