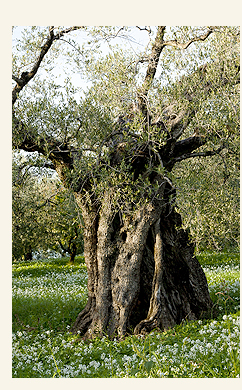 Rediscovering our roots
"Osco" is the name of an ancient language spoken thousands of years ago in Sabina, the beautiful region northeast of Rome, land of the oldest olive trees in Italy. Superb olive oil has been produced in the sweet hills of Sabina since long before the founding of Rome. Today, Sabina oil is considered one of the finest in Italy but is not well known around the world.
When Giuseppe Micheletta returned to his homeland after several years in the United States, he saw the beauty and richness of the Sabina area anew. Together with his family, he embarked on a project to promote this region and its oil around the world. They turned their family's villa into a welcoming vacation haven, put the thousand olive trees his father had planted into production, and built a network of small local producers to create a truly distinctive olive oil of the highest quality.
The most exciting part of this project is bringing together people who are passionate about what they do-from the local olive growers to the US home sale agents, who understand and believe in genuine, whole and honest food as a way to nourish our bodies and minds. Sabina olive oil is excellent for your health and supports the wonderful agricultural roots of Italy and a sustainable social model.